Usul Talks: Comparative Psychology from the Lens of the Islamic Scholarly Tradition
We are excited to announce the first of a series of talks hosted by Usul Academy that aims to think critically about contemporary issues from an Islamic perspective. Our first lecture, "Comparative Psychology From the Lens of the Islamic Scholarly Tradition" will be given by Dr. Hooman Keshavarz and is open to all.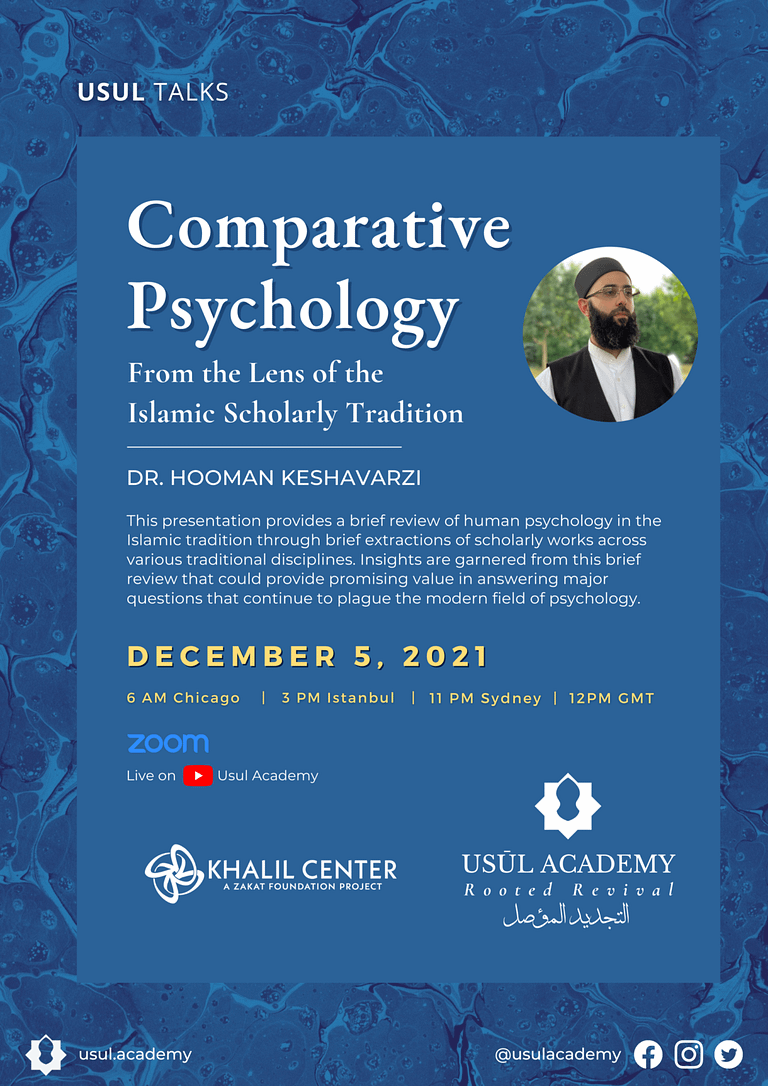 Dr. Hooman Keshavarzi is a licensed psychotherapist in the state of Illinois, he holds a Doctorate of Clinical Psychology, a Masters of Clinical Psychology and a Bachelors of Science – specialist psychology track/minor in Islamic Studies. He is currently a visiting scholar for Ibn Haldun University (Istanbul, Turkey), Adjunct Professor at American Islamic College, Hartford Seminary, instructor of psychology at Islamic Online University and founding director of Khalil Center – the first Islamically oriented professional community mental wellness center and largest provider of Muslim mental healthcare in the US. In addition to his academic training, Hooman Keshavarzi has studied Islamic theology both formally and informally. He is a student of Shaykh Muhammad Zakariya and studied informally with Shaykh Azeemuddin Ahmed, later formally enrolling in Darussalam Academy for 4 years. He also did some specialized coursework with Shaykh Amin Kholwadia in Islamic counseling. He then transferred to Darul Qasim where he is continuing his higher Islamic education.